Procolored's Cutting-Edge UV DTF Sticker Printer: Where Innovation Meets Efficiency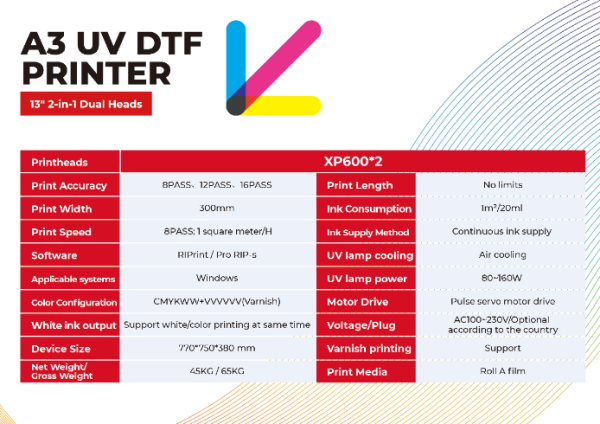 Los Angeles – September 19, 2023 – Procolored Inc introduces its state-of-the-art 2 in 1 Professional A3 UV DTF Printer, fusion of advanced printing technology with sophisticated design. Seamlessly merging user-friendly features with superior printing capabilities, this printer is set to revolutionize the UV printing experience.
Redefining Printing Technology
Procolored recognizes the challenges businesses face in today's fast-paced world when it comes to printing. Traditional methods often lack the speed, versatility, and quality required to meet modern demands. This innovative UV DTF sticker printer aims to bridge that gap by offering a versatile and compact solution that caters to a wide range of printing needs.
The printing industry has witnessed remarkable advancements over the years, and Procolored has been at the forefront of these innovations. With the introduction of the 2-in-1 Dual Heads A3 Mini UV DTF Sticker Printer, Procolored is once again redefining the way we approach printing technology.
Key Features and Advantages of the 2-in-1 Dual Heads A3 Mini UV DTF Sticker Printer
Unified Software Integration: With compatibility for Pro RIP software, the Procolored Rip ensures that tasks like image resizing, RIP, and printing are all efficiently managed within a single platform.
Dynamic Optional Bracket: Designed with versatility in mind, the printer can be paired with a base bracket, facilitating easy mobility. An additional highlight is its electric film collecting device, ensuring a streamlined printing process.
Integrated Cutter: Augmenting the printer's functionalities is an in-built cutter, enabling users to swiftly cut out printed designs with precision.
Compact and Accessible Design: A testament to thoughtful engineering, the printer boasts a compact structure. Its unique feature of openable left and right sides ensures easy accessibility for maintenance and checks.
Dual-Purpose Printing Mechanism: Standing out as its signature feature, the printer combines the processes of printing and laminating into one cohesive operation. Once an image is printed on film A, its built-in laminator overlays film B atop it, culminating in the creation of pristine crystal stickers.
Advanced Printing Technology: The printer is empowered by CMYKWV dual print heads, facilitating 12 channels of synchronous printing. This ensures vibrant prints, rich in detail and color.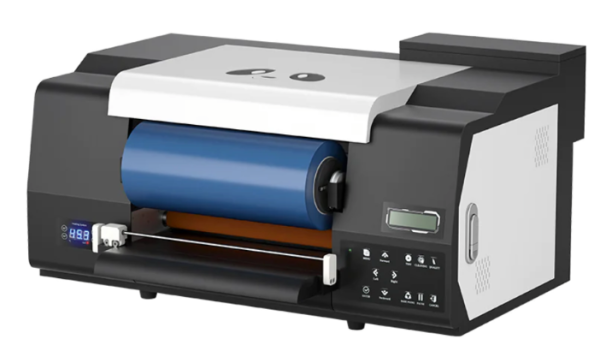 Why Procolored's A3 Mini UV DTF Sticker Printer is the best choice for your workshop?
This printer's dual-head design enables simultaneous printing, boosting productivity without compromising on quality. Whether you're a small business looking to create custom stickers or a large-scale operation with high-volume printing needs, this printer is designed to meet your requirements.
Procolored understands that businesses require versatile tools to succeed. The A3 Mini UV DTF Sticker Printer offers incredible flexibility in terms of materials and applications. It can print on various substrates, including metal, wood, plastic, vinyl, fabric, paper, and more, making it suitable for a wide array of creative projects.
Despite its impressive capabilities, the printer maintains a compact design, saving valuable space in your workspace. Its user-friendly interface ensures that even those new to printing technology can operate it with ease.
About Procolored Inc,.
Procolored Inc. is a trailblazing printing technology company dedicated to bringing the finest and most innovative printing solutions to the market. With a team of experts passionate about pushing the boundaries of what's possible, Procolored Inc. has solidified its position as a global leader in printing technology. Always looking ahead, Procolored Inc. continues to shape the future of printing with every product release.
Media Contact
Company Name: Precolored Inc.
Contact Person: David
Email: Send Email
Country: United States
Website: https://www.procolored.com/