Book Release: The Essential Upgrade by Chandra Sanders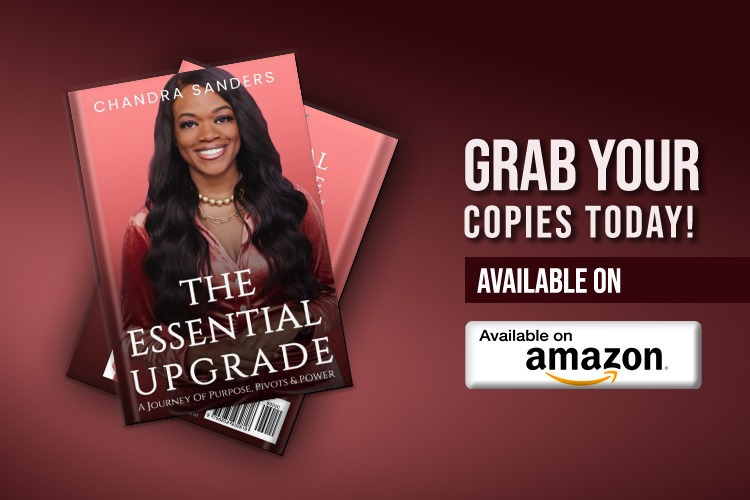 Chandra Sanders, an inspirational author and advocate, shares her remarkable journey of overcoming adversity and transforming challenges into strengths in her latest book, "The Essential Upgrade." With an extraordinary life story that includes being in foster care, adoption, and now impacting women worldwide, Sanders offers invaluable insights and practical guidance to help readers find their purpose, navigate change, and stand in their power.
"The Essential Upgrade" is a compelling exploration of personal growth and empowerment. Sanders emphasizes that when life throws challenges our way, we have two choices: let them weaken us or transform them into strengths that make us fearless. Through her own experiences, Sanders inspires readers to make the empowering decision to rise above obstacles and live a fulfilling life.
This book serves as a roadmap for rebuilding oneself, guiding readers on a transformative journey toward becoming a higher, more powerful, and unbreakable version of themselves. With her unique blend of personal anecdotes, practical advice, and motivational insights, Sanders encourages readers to embrace change, discover their purpose, and unlock their true potential.
"The Essential Upgrade" offers a refreshing perspective on personal development, encouraging readers to take control of their lives and make positive changes. Sanders believes that every individual has the power to upgrade their mindset, overcome limitations, and create a life they truly desire. She shares empowering strategies and techniques to help readers break free from self-doubt, fear, and limiting beliefs, enabling them to step into their power and live authentically.
Sanders' book also highlights the importance of resilience and the ability to pivot in the face of adversity. Drawing from her own experiences, she demonstrates how embracing change can lead to personal growth and transformation. Through relatable stories and practical exercises, Sanders provides readers with the tools they need to navigate life's uncertainties and turn challenges into opportunities for growth.
"The Essential Upgrade" is a must-read for anyone seeking personal transformation, empowerment, and a renewed sense of purpose. Sanders' captivating storytelling, combined with her wisdom and practical advice, will inspire readers to take charge of their lives, pursue their dreams, and unleash their true potential.
Chandra Sanders is a dynamic author, speaker, and advocate who has dedicated her life to empowering individuals to overcome obstacles and live their best lives. Her journey from foster care and adoption to becoming an influential figure impacting women worldwide has given her a unique perspective on resilience, personal growth, and empowerment.
"The Essential Upgrade" is now available on Amazon, Barnes & Noble, and other major book retailers. To learn more about Chandra Sanders and her work, please visit her website at www.chandrasanders.co.
About Chandra Sanders:
Chandra Sanders, an unyielding champion of social impact, is devoted to advancing her mission of promoting economic empowerment for women. As a distinguished startup executive, author, and advocate, Chandra's unwavering commitment revolves around elevating women's economic prospects. Her mission is to create an environment where women embrace authenticity while harnessing their innate potential to attain influence, ascend the earnings ladder, and reach leadership pinnacles.
Founder of Heels N Hustle LLC, a consultancy based in Austin, TX, Chandra orchestrates transformative workplace evolution where purpose and progress intersect. Her debut book, "The Essential Upgrade: A Journey of Purpose, Pivots and Power," available on Amazon, serves as a testament to her thought leadership and profound impact.
In her recent role as VP of RISE at The Mom Project, Chandra embarked on a vital mission—to propel mothers and women of color through upskilling initiatives, shaping a more auspicious global work landscape. Under her strategic guidance, RISE achieved unparalleled outcomes, driving an aggregate $17 million salary increase within just three years. The initiative empowered over 7000 scholarship recipients, equipping them with digital skills for coveted roles in today's dynamic job market.
Chandra's ingenuity gained recognition, celebrated by Fast Company as a harbinger of transformative change in its esteemed "World Changing Idea" accolade. Her influence expands to prestigious publications like Glamour Magazine and resonates through platforms such as Comcast, SAP, ABC, NBC, and CBS. MIT Press featured her contributions, solidifying her as a distinguished thought leader.
Beyond media, Chandra's wisdom reverberates in podcasts and the business community, embodying her role as a prominent voice for impactful transformation. Her journey epitomizes a visionary executive, bridging purpose, innovation, and empowerment to steer women toward economic empowerment.
Media Contact
Company Name: Heels N Hustle LLC
Contact Person: Chandra Sanders, CEO
Email: Send Email
Country: United States
Website: www.chandrasanders.com