AltPPC Emerges As One Of The Most Cost-Effective Option For Digital Advertising
AltPPC is a user-friendly digital advertising platform with a range of dynamic ad formats.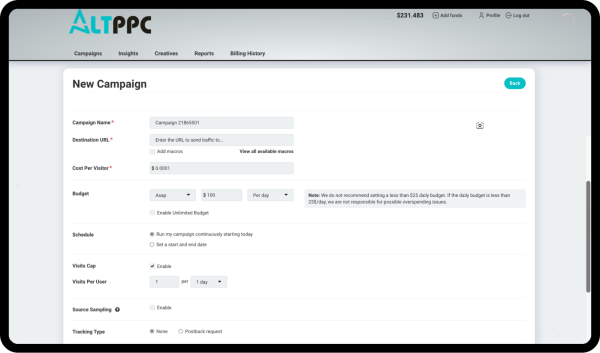 In a digital landscape inundated with advertising platforms, AltPPC emerges as a fresh and cost-effective alternative for businesses and individual advertisers seeking to maximize their reach without breaking the bank. The startup is already making waves with a staggering over 4 billion ad impressions per month, reaching over 200 countries globally.
Talking to the media Dhirendra Mohan from AltPPC said "AltPPC is a great alternative to other PPC sites like Google Ads etc. It is affordable and yet extremely effective giving our users freedom to reach their target customers globally without breaking their banks."
AltPPC offers a user-friendly self-serve ad platform where advertisers can instantly create campaigns effortlessly to promote websites, offers, links, videos, and apps. With a starting cost-per-click (CPC) as low as $0.003, it is a highly affordable option for advertisers on a budget.
The platform boasts a network of 98K+ publishers and 200+ network partners, guaranteeing quality traffic through its built-in class ad score targeting. Moreover, it offers a mobile app user base of 20M+ worldwide, providing a fertile ground for high conversion and interactions for app promotions.
Advertisers have the freedom to choose from various campaign types to cater to different marketing objectives. The platform ensures ads reach the most relevant audience, offering detailed analytics and reporting to meticulously track every aspect of a campaign's performance.
A standout feature of AltPPC is its dynamic range of ad formats designed to captivate audiences and drive exceptional results. From visually striking display ads to non-disruptive native ads that blend seamlessly with the hosting platform's look and feel, AltPPC offers formats that make campaigns stand out in the digital landscape. The platform also offers unique popunder ads that appear behind the main browser window, ensuring messages are seen when users are ready to explore, and direct push notification ads to grab attention effectively.
AltPPC is not just an advertising platform but a community trusted by millions in over 200 countries. Whether the goal is to generate leads and sales, drive website traffic, boost app installs, enhance brand awareness, or promote videos, AltPPC is a reliable partner in achieving advertising objectives.
Users can join the growing community of 177K+ customers who have chosen AltPPC as their advertising partner. The platform invites advertisers and publishers to start their campaigns today and take their brands to unprecedented heights with AltPPC's diverse ad formats and extensive reach.
With a commitment to providing a wide array of campaign types to suit unique goals and preferences, AltPPC is here to take the digital advertising landscape by storm, offering a staggering 2.5 billion impressions per day and ensuring messages reach a vast and engaged audience like never before.
Budding entrepreneurs are encouraged to experience the AltPPC difference today and unlock new possibilities in digital advertising.
Users can visit https://altppc.com or email [email protected] for any media or commercial inquiries.
About Company:
AltPPC is a self-serve advertising platform offering a unique way to connect with audiences and achieve advertising goals effectively and affordably. With a vast network of publishers and partners, AltPPC guarantees quality and reach, helping advertisers meet their objectives with ease and efficiency.
Media Contact
Company Name: Cap Services India
Contact Person: Dhirendra Mohan
Email: Send Email
City: Gurugram
State: Haryana
Country: India
Website: altppc.com