Pioneering Carbon-Based Fertilizer Manufacturer Announces International Expansion
Arlington, WA – As a global leader in sustainable agriculture, we are thrilled to announce the international expansion of our carbon-based fertilizer manufacturing operations. At the heart of our success is a unique manufacturing platform that is semi-closed loop, zero-waste, and carbon-negative, setting new benchmarks in environmental stewardship and sustainable farming.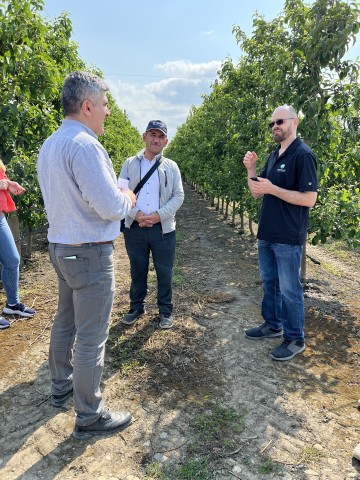 Nik Nikolayev, CEO Rooted LeafTouring farms and speaking with Agronomists in Azerbaijan.
Our groundbreaking technology leverages bio-engineered carbon-capture processes to produce a fertilizer that sequesters more carbon than it emits. This pioneering approach turns waste into an invaluable input for creating new products, creating a model of circular economy that is both scalable and sustainable.
This international expansion has been fueled by overwhelming support from both the farming community and government entities worldwide. Farmers have applauded our carbon-based fertilizers for their ability to significantly enhance soil health and crop yields, while simultaneously reducing their carbon footprint.
Government bodies have also recognized the pivotal role our fertilizers can play in achieving their dual mandate of promoting food security and mitigating environmental degradation. Their endorsement has expedited our entry into new markets, setting the stage for a global transformation in sustainable farming.
We are particularly proud of the proven track record our products have in increasing biomass and crop quality in an environmentally friendly manner. It's a win-win solution that has demonstrated that commercial success and environmental responsibility can indeed coexist.
While we are aware that our international expansion will bring new challenges, we are steadfastly committed to our mission. With our revolutionary carbon-based fertilizer, the growing support from farmers and governments, and the proven results of our product, we are well-positioned to make a global impact.
This expansion signifies more than just business growth; it heralds the advent of a new green revolution. We are honored to spearhead this movement, demonstrating that it is possible for the agriculture industry to prosper while nurturing our planet.
As we embark on this exciting new phase, we invite you to join us in cultivating a greener future, one field at a time.
Rooted Leaf Agritech is a pioneering carbon-based fertilizer manufacturer committed to promoting sustainable agriculture globally. Through its unique semi-closed loop, zero-waste, and carbon-negative manufacturing platform, it is transforming farming practices and paving the way for a greener and more sustainable future.
Media Contact
Company Name: Rooted Leaf Agritech
Contact Person: Richard Schurman
Email: Send Email
Phone: +1 206-331-4700
Country: United States
Website: www.rootedleaf.com