New book "The Gift of Inspirations" by Ocean Eagle is released, a powerful collection of sayings, reflections, and spiritual wisdom that showcases the power of language to transform and elevate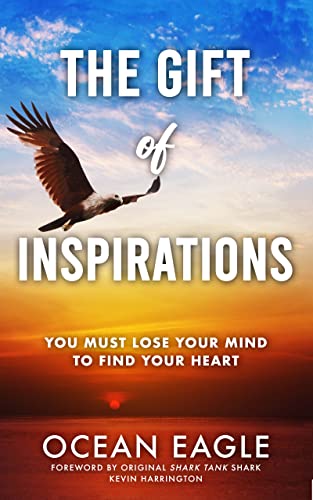 "The Gift of Inspirations: You Must Lose Your Mind to Find Your Heart" by Ocean Eagle has been released worldwide. This 250-page collection of inspirational sayings, which has achieved bestseller status as #2 in Amazon's Alternative and Holistic Medicine category, prompts readers to reflect on the wisdom presented to find those that resonate the most. This exploration of identity and spiritual wholeness ranges from affirming to contemplative, and serves as a reminder of how powerful words can be!
Through his own journey of Shamanic Breathwork and spiritual growth, Ocean Eagle has gathered and crafted the sayings contained in this book to motivate and inspire others to discover their innate magnificence.
These quotes each contain the power to change the trajectory of a reader's life, and every individual is invited to make notes, choose the sayings that mean the most to them, and return to the book time and time again to draw new inspiration from their favorite phrases.
Memorable, impactful, and easily digestible, this book can become a staple of daily practices in meditation, self-reflection, affirmation, and beyond. Ocean Eagle wants readers to awaken their own spiritual calling, and these writings are windows into receiving gifts from the universe.
Each lesson is drawn from a path that the author has walked himself, and teaches people to look within their own hearts to overcome spiritual blocks that may be holding back a full, authentic connection to their spirit's calling.
Ocean was recently featured on Kevin Harrington's Get Down to Business to discuss the book, his programs, and how he found his life's mission.
Watch the interview athttps://www.youtube.com/watch?v=D_n7-fZF0nQ
The Gift of Inspirations (ISBN: 9781958729885) can be purchased through retailers worldwide, including Barnes and Noble and Amazon. The paperback retails for $16.95. Wholesale orders are available through Ingram. Review copies and interviews are available upon request.
Learn more athttps://www.oceaneagle.org/
From the back cover:
"I am amazed at how much my life has changed in one year since meeting Ocean. He genuinely cares for humanity, and I highly recommend Ocean Eagle's Books, Activation Breathwork, Retreats, and Mentorship!!!" – Dr. Angie Cross
As Ocean began to journey from his illusionary 3D existence and into what he calls "The Universal Frequency Matrix" of his higher self, he realized there were guides helping him in many ways. The spoken word has such strength and power to alter one's trajectory in life. When he looked back through his life, the realization of many such moments became crystal clear. As you read this book, maybe search within for that teacher, friend, parent, relative, spiritual guide, child, or mentor who said something to you that you never forgot. Turn inward and ask yourself why that word or phrase inspired you to make changes in your way of thinking and life choices. Ocean realized when these moments happen, a new beacon of light shines within and our "Higher Self" calls us back home to our True Essence!
"We are all born with a gift and humanity needs you to find yours now more than ever. I'm meant for great things, and So Are You!"
About the author:
Ocean Eagle's life's trajectory was forever altered on May 4th, 2019 in his first Shamanic Breathwork session in Sedona, Arizona. While at the "The Gathering of the Shamans," he attended a Shamanic Breathwork workshop with 85 souls and the session blew Ocean Eagle's heart apart. The expansion of love for humanity and Mother Earth was overwhelming. He went back home to Sacramento and changed One Thing… Everything! Most never receive a calling and if they do, they cannot muster the courage to surrender to it. Ocean's calling could not be denied, and the expansion opened courage within to follow it fearlessly! He walked away from a life of financial comfort to be set free and now sees the world through a new lens.
About MindStir Media:
MindStir Media LLC is an award-winning book publisher. To learn more about publishing a book with MindStir Media, visithttp://mindstirmedia.com or call 800-767-0531.
Media Contact
Company Name: MindStir Media LLC
Contact Person: Jen McNabney
Email: Send Email
Phone: 800-767-0531
Address:1 New Hampshire Ave Suite 125
City: Portsmouth
State: NH
Country: United States
Website: https://mindstirmedia.com/