Kvoltz launches collection of NFT's with characters that encourage sustainable energy production.
Meet the characters and boxes developed by the fintech that will yield gains and guarantee benefits.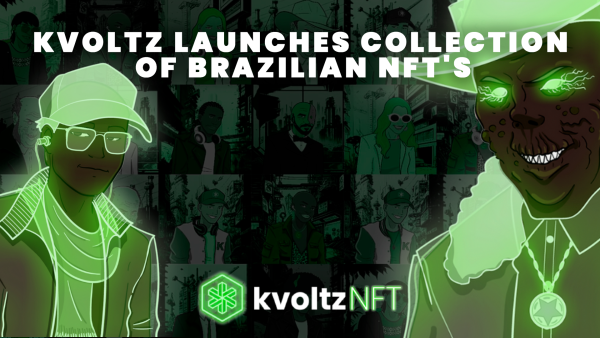 Brazil – NFT Kvoltz, after launching last year the token that finances the production of photovoltaic energy in Brazil, now, the fintech is preparing to make available in the international market, a series of NFT's. In practice, NFT means non-fungible tokens, meaning that it is the representation of an exclusive digital asset, which can be a painting, in the physical world, for example, or in this case, a graphic art made by a designer, but unique, only the holders of NFT's can use or transfer them.
Thinking of innovation, Kvoltz has developed a series of NFT's that will be commercialized starting February 24th. For this, eight characters with different profiles were created: Sarah, David, Samuel, Alice, Tony, Patrick and the villains Frank and Victor. They can vary in classification according to their rarity and are thus subdivided into Pop, Rare, Legendary, Mythical, and Gold. Investment values in these NFT's range from $7.14 to $88.88.
At launch, investors will also have the option to purchase boxes, for which four models have been created, which are: Wood Box, Stone, Gold, and Neon. There will be more than eleven thousand six hundred boxes available. The purchase can be made through the site: kvoltz.com.br
One of the advantages of guaranteeing a digital asset like this, besides having an exclusive digital item, the investor will also guarantee some benefits. "Holders of NFT's will have exclusive discounts in the Kvoltz store, in addition to priority access to the fintech's next release and collectibles sales, they will also participate in the vip group, where we will hold weekly, bi-weekly and monthly drawings of unique products and opportunities that will be disclosed at the beginning of each month." As the company's Head of International Relations, Anderson Morais, pointed out.
NFT's around the world. According to data from the analytics site DappRadar, between January and September 2021, the sales volume of these tokens reached more than $13 billion. Last year, one of the asset marketplaces, Opensea, recorded more than 16 billion in accumulated sales through November of last year, showing an increase of 27%. Therefore, this type of digital assets is becoming a strong trend in the financial market.
Meet the characters. Sarah stands out for her ability to move through the financial market, and is a reference in the crypto market. David is a revelation in the world of gamers, he has always been interested in games and has participated in major championships, therefore, respected by the community. Samuel is a developer who divides himself between games and systems programming. Alice has the gift of communication, she is a successful publicist who is always attentive to the insights of traditional and new media. Tony is an electrical engineer who has started a solar energy company because he believes that clean energy is the present and future. Patrick is an engineering student who believes in solar energy production, so he dreams of being able to find a way to bring clean energy to as many corporate homes as possible.
The bad guys: Frank is dedicated to money and is willing to add even more figures to his accounts. He is the sole producer and marketer of energy, so he controls the industry. Victor is driven by power, allied with dubious partners to gain authority, influence and social control.
Cryptocurrency wallet. To buy NFT, you need a digital wallet, such as metamesk, for example. With it in hand, you can access the Binance Exchange, as well as the Poligon network. There you can convert money in reais into BNB currency. From there, you can acquire the Matic, which is the currency that will allow you to buy NFT on the Kvoltz site. Automatically, the NFT will already be stored in the metamesk wallet.
Who is Kvoltz? The company was created in 2022 by four Brazilian partners, combining financial technology expertise with crypto and solar energy specialists. The office is based in the city of João Pessoa, Paraíba, and the team is made up of a multidisciplinary team of collaborators.
The name: The word KVOLTZ came from the junction of the letter "K", used to represent the number "1000" when talking about energy measurement (Killo Watts) and the word Volts.
Media Contact
Company Name: KVZ | Kvoltz
Contact Person: Renata Leitão / Jacson Marçal
Email: Send Email
Country: Brazil
Website: https://www.kvoltz.com/