Lee Chambers features in Canvas8 Expert Outlook on Health and Fitness
The British psychologist and entrepreneur featured as part of the future-focused outlook on trends and consumer behaviours across global industry sectors and mindsets.
Lee Chambers, the British psychologist and entrepreneur, has been part of Canvas8's Expert Outlook series, looking at both the Health and Fitness industry and a consumer mindset focused on the Systems Skeptic. Canvas8 is an award-winning consultancy that helps brands create better strategies, products, and businesses. They've recently published their Expert Outlook 2022. This research included 68 experts interviews with cultural insiders and sector specialists and has a total of seven webinars off the back of the project's release that give brands a broad view of the future of both their industry and consumer patterns.
For the Expert Outlook on Health and Fitness, Chambers was joined by fellow experts Dr Michael Ungar and Tom Holland, as they looked into trust and privacy in health tech, the uptake in traditional health practice and radical new solutions, and how the past year had amplified the importance of social and environmental wellbeing as part of the bigger picture when it comes to the industries future. The experts provided a range of insights based on their industry knowledge and identified a number of key trends, and companies within the sector that are on the cutting edge.
With the Systems Skeptic, Lee was joined by Dr Christos Makridis and Annie Corser, and the live event focused on the consumer behaviours of this subset of individuals, who across the world are pushing for information and influence to be decentralised. The Systems Sceptic is opting out of existing structures to find new and progressive ways to live, as evidenced by new party politics from Germany to Israel, the push to adopt crypto salaries in Australia, and a Gen Z exodus from major social platforms. Well-read and switched on to the news, they're able to spin facts together in a way that makes their arguments – around everything from the climate to vaccines to Bitcoin – the most compelling. In doing so, they're striving to change the rules we live by. The live event focused on a number of key areas, including new money management, innovative working patterns and supply chain overhaul.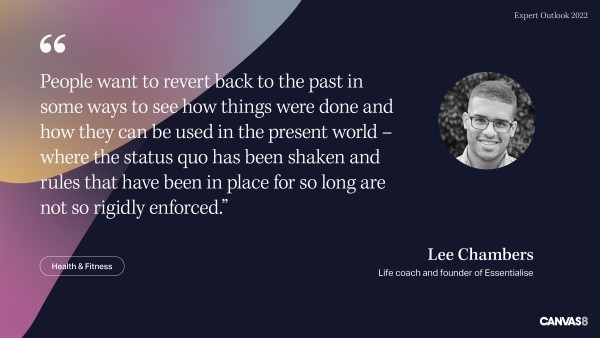 When asked about being selected by Canvas8 to cover both his sector and one of the three key mindsets, Lee Chambers said, "I've been following Canvas8 for some time, and to be selected as one of only 68 experts and thought leaders is something I'm very proud of. With Canvas8's client base containing many FTSE 100 and S&P 500 companies, it's certainly a realisation for me of how valued my opinion is, and I want to thank Lowri and the team for giving me the platform to share my opinions on the future of the health, wellbeing and fitness industry. As we look to cultivate a world that can tackle the significant challenges we face as a species, looking after ourselves, each other, and the planet has never been more important."
While this will be the last appearance for Chambers in 2021, he is lined up for a number of keynote speeches in 2022, and will be continuing to provide input on the landscape of the industry while applying it with his company Essentialise Workplace Wellbeing. Canvas8's Expert Outlook for 2021-2022 can be accessed on the link below, with relevant articles and insights for every sector from a global perspective.
Media Contact
Company Name: Press Release UK
Contact Person: Media Relations
Email: Send Email
Phone: 01772 846144
City: Preston
State: Lancashire
Country: United Kingdom
Website: https://www.canvas8.co.uk/expert-outlook-2022