It Is Time Of Asteria Hair Christmas Sale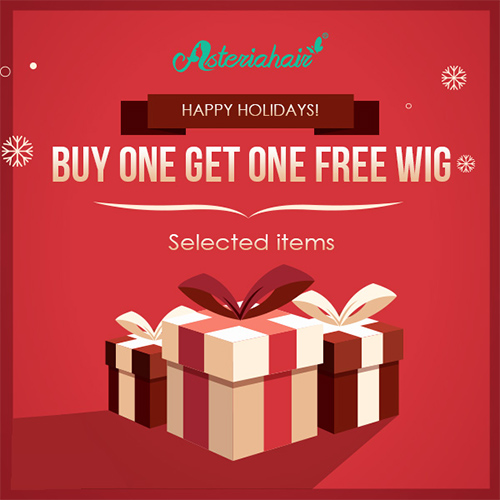 Several weeks have passed since 2021 Black Friday and Cyber Monday, and wig sellers have also done their best to provide consumers with the highest discounts. Taking into account the global epidemic, sales figures are unexpectedly better than last year.
The 2021 holiday season has begun, and everyone is preparing for Christmas and New Year, preparing gifts and so on. Asteria Hair, a human hair production and sales brand from China, has also prepared a series of promotional activities to provide wig consumers with more favorable prices during the holiday season at the end of the year.
Asteria Hair extensions and lace wigs will be on sale on December 9.
Hair bundles and lace wigs, as essential accessories for black women, are in considerable demand.
The current discount price of hair bundles is 28%. There will be an additional 10% discount for the 2021 Christmas event. The coupon code is XM10.
The wig category offers even greater discounts. Currently the hottest HD lace wig in the market, the current highest discount is 38%. At the end of the holiday season, AsteriaHair provides an additional 12% discount. The price of HD lace wig ranges from $100 to $1000, and additional 12% discount will be offered for consumers, that means customers would save at least $12.
The average customer purchase price is between $200-$300, which means that most people will save about $24-$36. No matter if it is a gift to relatives or friends, HD lace is the first choice as a highly transparent lace wig in the market.
In addition, the long-size headgear is also one of the major points of Asteria Hair. The 30-inch to 40-inch ultra-long wigs is also what many black women want to have, but the price is relatively expensive, usually above $400. According to Asteria Hair currently offers In addition to the remaining about 50 US dollars, there is also a possibility of receiving a free bob top gift, because AsteriaHair now has BOGO promotions for specific products.
Christmas is coming soon, and I sincerely wish everyone a Merry Christmas and peace!
Media Contact
Company Name: Asteria Hair
Contact Person: Media Relations
Email: Send Email
Phone: +86 15238065852
Country: China
Website: www.asteriahair.com