General Devices (GD) offers a comprehensive insight on community paramedicine in new ebook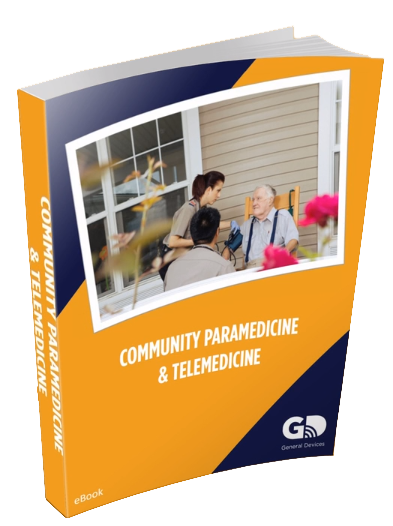 Leading providers of innovative medical products, General Devices (GD), publishes new ebook titled "Community Paramedicine and Telemedicine" to give a detailed information about telemedicine and community paramedicine
In line with company's goal of improving preparedness, providing smarter patient care, and enhance the overall patience experience, General Devices (GD) has published an ebook on the rising practice in healthcare, Community paramedicine. In the book titled "Community Paramedicine and Telemedicine," General Devices (GD) gives a detailed explanation of community, the benefits of implementing the practice, and the value provided by telemedicine and community paramedicine.
Community paramedicine is an innovative model of community-based healthcare that is designed to provide more effective and efficient services at a relatively lower cost. The practice has become increasingly popular in recent time with the treatment-based approach providing a new usable tool to bridge this healthcare gap. However, there is not enough information out there about the relatively new practice, causing a bit of confusion among the different stakeholders in the healthcare system. This is where General Devices (GD) is looking to set the records straight and offer an easy-to-understand content on the topic of community paramedicine.
The book is carefully divided into 6 chapters, looking at the different aspects of telemedicine and community paramedicine. Some of the topics covered in Community Paramedicine and Telemedicine include a detailed overview of Community Paramedicine, Mobile Integrated Healthcare and Community Paramedicine as well as their differences and similarities. Other topics covered in the book are The Role of Community Paramedics and How They Impact Healthcare, Required Planning for an Effective CP Program, and Telemedicine and Telehealth for MIH-CP.
The book also talks briefly about GD e-Bridge, the only highly configurable, feature-rich, secure, hospital-EMS Mobile Telemedicine, and intelligent notification platform listed by both FDA and FirstNet.
"Community Paramedicine and Telemedicine" is written in a language that can be easily understood by all categories of readers, regardless of their level of knowledge or expertise in the medical field.
The free ebook can be gotten by interested persons by simply entering their email address to receive the ebook – https://general-devices.com/cpebook/.
For more information about General Devices and the amazing healthcare solutions offered, please visit – https://general-devices.com/.
General Devices is also available across several social media platforms, including Facebook, Twitter, and LinkedIn.
About General Devices
General Devices (GD) is a leading provider of innovative solutions poised with enabling smarter patient care by empowering hospitals, EMS, mobile integrated healthcare, community paramedicine and public safety responders with the most comprehensive, interactive, configurable, affordable and integrated medical team communication and mobile telemedicine solutions. Offering benefits unmatched in the industry including enhanced workflows, minimized risks, reduced costs and improved patient outcomes, GD's innovative solutions help more than 15,000 patients' lives daily.
Media Contact
Company Name: GD (General Devices)
Contact Person: Alessia Fiorello
Email: Send Email
Phone: 201.313.7075
Country: United States
Website: http://www.general-devices.com/