Yonsei Life & Health's "KidsTen042" becomes popular as health functional food that helps increase children height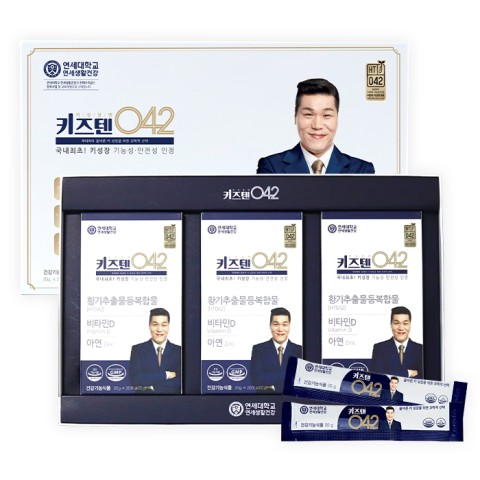 With the coronavirus pandemic spreading around the world, there has been growing attention to health more than ever before. The health functional food market in South Korea is continuing to see a steady growth from roughly KRW4.9273 trillion in 2020 to roughly KRW5.0454 trillion in 2021. This is an indication of widespread use of health functional food products.
It is a set of food products related to 'increasing height' that is a main issue in the Korean health functional food industry. As many children do indoor activities due to the ongoing pandemic instead of going outside, time to do physical activities directly associated with their heights significantly declined. In order to address such problem, a series of food products that help increase heights have been released into the market. Yonsei Life & Health's "KidsTen042" is among the best ones.
This food product was developed by Yonsei Life & Health under Yonsei University where leading researchers from medicine, bioengineering, and food and nutrition areas are working to make innovative food products. Thanks to their commitment, the safety and excellence of Yonsei Life & Health's products were approved and registered by the Ministry of Food and Drug Safety of Korea and the FDA.
The Kids Ten 042 contains three major ingredients such as Astragalus-extracted compounds (HT042), which are approved ingredients effective for fostering kids heights approved by the Ministry of Food and Drug Safety, vitamin D necessary to form and retain bones and zincs important for making the healthy immune system more healthy. Therefore, it is sufficient to maintain a balance in health between height growth, normal immune functions and bone health with a single packet.
Furthermore, supplementary ingredients exclusively developed by Yonsei University such as zanthoxylum piperitum fruit extract powder, inactivated probiotic powder and Javanese Turmeric oil powder were added to this nutritious product. The strength is that as this soft jelly tastes like sweet grape, children who are picky eaters will enjoy having snacks. As each product is separately packaged like a stick, you can bring them to anywhere and anytime. So it is very convenient to take them out and get ready to eat.
One company insider said that the reason why "KidsTen042" has become a successful health functional food that boost height growth in Korea is that it is strictly managed and processed at factories under the Good Manufacturing Practice and that highly selective key and supplementary ingredients were mixed to make this product.
Yonsei Life & Health's "KidsTen042" will soon be exported to ten countries such as the United States, Europe and Asia.
Media Contact
Company Name: Yonsei Life & Health
Contact Person: Seyeon Kang
Email: Send Email
Country: South Korea
Website: www.kids10.co.kr