Spanish Singer, Miz Vanezza, Releases Hot New Single Titled Gata
The amazing artist and influencer stunned fans and music lovers with an electrifying performance in the music video, which has left many fans calling for an English version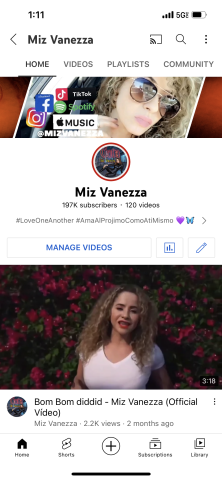 August 3, 2022 – Spanish Singer, Miz Vanezza, has released a hot new single that is taking over the music airways. Titled Gata, the new sensational track is an incredible piece of art, accompanied by a music video currently available on Youtube.
In the video, Miz Vanezza captures the audience's attention with her captivating voice and amazing dance moves. Her electrifying performance in the black jumpsuit has left many fans begging for an English version of Gata.
"Music has always been my passion ever since I was a little girl. All my experiences up to this point have sculpted me into the artist I am today. I am both proud and grateful to be able to do what I love and share it with the world."
Born in Honduras San Pedro Sula, Miz Vanezza developed a deep love for music at an early age and began her singing and acting career at middle school in the Central American country. The phenomenally talented influencer eventually migrated to the US and stayed through to her passion, finding every avenue to hone her skills and achieve her dreams.
From working as a Singer at several restaurants to participating as a second voice on the tracks of other artists, and being a dancer for local artist concerts, Miz Vanezza eventually progressed to become part of a TV show 702 the flow provided by Telemundo.
As a singer and actress, Miz Vanezza has also made some commercials and played as an extra with Univision. So far, she has been part of several movies, including the likes of All-Star Weekend, WTF Is Happening In Vegas, All On The Bushes and other productions & projects.
Currently, Miz Vanezza operates as an independent artist – with her own record label, and is working on her own films. Click on the following link to watch the new Gata video or reach out to Miz Vanneza via the contact info below: https://youtube.com/c/MizVanezza
Instagram: https://instagram.com/mizvanezza
FB: https://www.Facebook.com/MIZVANEZZA
TikTok: https://TikTok.com/@mizvanezza.com
Media Contact
Company Name: Miz Vanezza
Email: Send Email
City: Las Vegas
State: NV
Country: United States
Website: https://mizvanezza.com/