Wondershield Debuts The World's First Electrostatic Sprayer With Disposable Disinfectant Pods.
Revolutionary cleaning solution gives small businesses a fighting chance, offering up to 30 days of surface protection against germs.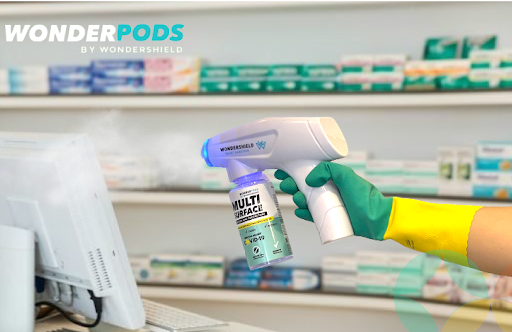 SYDNEY, AUSTRALIA – Wondershield, the Australian producer of cleaning and anti-bacterial products, today announced the launch of its new 'Wonderpods' cleaning system, following the success of its long lasting 'quat based' disinfectant which kills 99.99% of bacteria on surfaces for up to 30 days.
Wondershield is on a mission to give small businesses the tools to stay open by providing an effective solution against infection in the workplace; says Sid Bedre, the founder and CEO of Wondershield. Our new disinfection system called 'Wonderpods' uses an electrostatic spray gun that works with disposable 'single-use' disinfectant pods, meaning you are now able to disinfect larger areas quicker and for much longer than ever before. Wondershield's disinfectant has also been tested by leading laboratories around the world and has been found to be effective in killing surface germs for up to 30 days. The revolutionary technology was developed as an alternative to most commercial cleaning options, which only "flash-kill" germs in the short term, but potentially expose people to contamination just a few minutes after use.
The Wonderpods cleaning system also includes a commercial grade electrostatic gun which positively charges the disinfectant being sprayed. This causes the liquid particles to then attract itself to objects regardless of which direction it's being sprayed from, meaning you get "360 degrees" of coverage from just a single swiping motion of the hand.
What truly sets Wonderpods apart from anything else on the market; is that never has there been a product that offers a disinfectant liquid along with commercial grade sprayers bundled in a single easy-to-use system. What's also more notable is that the Wonderpods starter kit which includes an electrostatic gun and two disinfectant pods, is priced at around just $299 USD making it an affordable option for small business.
Furthermore, the Wonderpods cleaning system has shown to reduce both, the application times and cost of labor which has been great news for businesses. But most importantly it has given small business owners the peace of mind they need in today's climate.
Visit the company's website, www.wonderpods.com.au, to enter for chance to win 1 of 5 free starter kits valued at $299.
Media Contact
Company Name: Wonderwash International Pty Ltd
Contact Person: Sid Bedre
Email: Send Email
Country: Australia
Website: http://www.wonderpods.com.au