The Most Important DJ Set in the History of Existence
It's a dream for every DJ to light up a Hollywood club, while most DJ's will only dream of this scenario, only musical geniuses will grace these SoCal stages a few steps away from the Avenue of the Stars. After recently receiving his "High Rise Bitch" Hollywood Star, DJ Breadwinner has been on an absolute tear, blazing trails of bong smoke and bread crumbs across Hollywood mansions and online music platforms.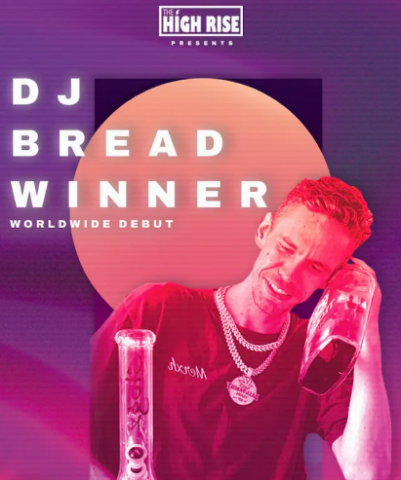 His first career, where he took over the internet as a teenage sales tycoon, the artist formally known as Erin Coffey broke E-bay sales records slanging skateboarding sticker packs. The legend of this child prodigy spread far and wide. Like most child stars, Erin hit rock bottom. The money, the cars, attention and drugs were hard for a 13 year old to deal with. Erin tightened up and started what now is the most accomplished marketing agency in cannabis. His new business took him across the world and back, rubbing shoulders and kissing babies with the most familiar faces on the planet.
One night Erin was at the high rollers table in Vegas surrounded by peers, professional athletes, politicians, hedge fund managers and muscians. Two of his DJ friends (Erin hate's dropping names out of respect) were begging him to play a set. After arguing for a few spins at the roullete table, the long haired Asian DJ put 500k on black and said, "if it hits, you're fucking playing The Truckadero in Hollywood". Erin laughed and rolled his eyes as the ball landed on the number 6. The whole table erupted and cheered before the waitress brought bottles of champaign for the table to make a toast to their idol. Coffey said the night was somewhat of a blur, but he ended up waking up on a rock in one of the tanks at the Shark Reef in the Mandalay Bay. He was safely out of the water but surrounded by hammerheads and sawfish with $320k in chips in Birkin bag. Two things he did not begin the evening with.
He dropped everything and hit the lab working on music 22 hours a day. Breadwinner created mash ups that nearly broke the internet. Last June emergency room burn visits increased by 27 percent due to his listeners faces melting while hearing his music. Breadwinner was literally on fire. During this interview, Coffey hadn't seen the light of day in over 2 years and was unaware of the pandemic the world has been fighting. Completely thrown off by the news, Breadwinner was inspired. "Lets thrown an event that will change the world", he said remembering what his protege mentioned to him at the roulette table. Word has been spreading on Reddit as small amounts of info has been leaked.
This event at The Truckadero will go down as one of the most anticipated and remembered events of the millennia. The VIP guest list alone will require secret service quality security. Airports are having issues scheduling the private jets arriving, luckily Erin's peers are prepared to take red-eyes and stay up 48 hours just to make his first set, which is being called "The Most Important DJ Set in the History of Existence". Fans and celebrities have been camping out on the sidewalk for 72 hours, some with tickets, some without. Some are waiting only to get a one second glimpse of the living legend. We are not sure if the world is ready for this event. Our publication has notified the Los Angeles Fire Department who will be on hand incase the building immediately catches fire upon his first beat drop. Safety first, we will be ready for all out chaos. It's a celebration of rags to riches with a once in a lifetime talent. Whether you're lucky enough to get in (God Bless you) or you sell your ticket on the sidewalk for $5k, be grateful to be alive while DJ Breadwinner is breathing the same air as you.

Media Contact
Company Name: High Rise Records
Email: Send Email
Country: United States
Website: http://www.highrisetv.com/