COINOVY Announces Partnership with KISAKISA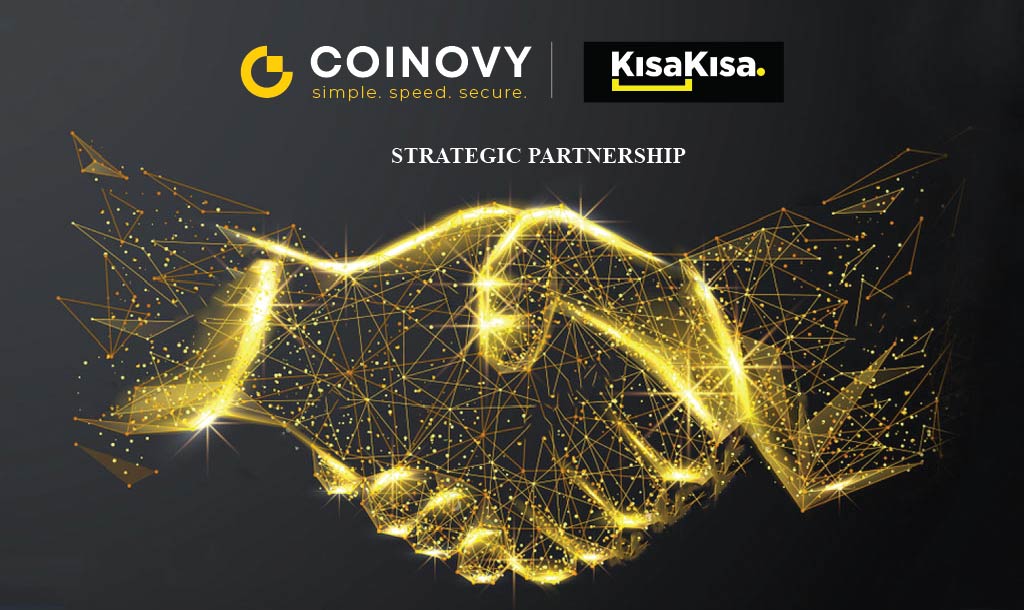 Dubai – Coinovy, a simplified Cryptocurrency Ecosystem, today announces a partnership with KisaKisa. Through the one-year partnership, Coinovy will offer its simplified system to store or trade digital assets with ease by onboarding a 10000 user base from KisaKisa.
Coinovy, which has a simplified system that allows users to buy, sell, or trade securely in less than 60 seconds per transaction is seen as the best in time rank across the leading cryptocurrency exchangers, has been getting an overwhelming response with KisaKisa being one of the first to get into a strategic partnership with Coinovy.
KisaKisa, a social platform with users from all generations who are looking at life from a different window has the ability to drive traffic and thus potentially boost utilization of Coinovy. Being a versatile platform, which has taken a great interest in Fintech, blockchain, and cryptocurrency, it has raving users who are looking to be a part of the emerging tech, are mostly having fund access issues. This is where Coinovy comes into play, offering a simplified system with ease of liquidation of digital assets through ease of liquidity via bank transfer or our very own, Coinovy Visa Debit Card.
After being active at the national level for many years, KisaKisa is now aiming to be a leading reference point for digital currencies and other cryptos as well as digital asset exchanges in Europe. The collaboration with Coinovy would put KisaKisa on a global level and this will contribute to the growth of acceptance of digital assets in Turkey and across Europe.
"We are looking forward to working with KisaKisa to provide a platform with a lower entry barrier for anyone who's looking to get into the crypto space, as our goal is to make it easier to trade crypto and have access to convert digital assets to fiat instantaneously. Being able to liquidate digital assets almost instantly is definitely our aim," says Saitej Annareddy, the Co-Founder & CEO of Coinovy.
About Coinovy
Coinovy is a Crypto-Ecosystem, premier crypto to the fiat service provider in the world, to drive simplified digital finances for everyone.
To learn more about Coinovy, please visit: www.coinovy.com
About KisaKisa
KisaKisa is an All-in-One social platform, which brings together all the unique features of the top social media platforms in one place, with a great outreach in the Turkey region and Europe.
To learn more about KisaKisa, please visit: www.kisakisa.com
Media Contact
Company Name: Coinovy OU
Email: Send Email
Address:Harju maakond, Tallinn, Kesklinna linnaosa
City: Tuukri tn Estonia, 10120
Country: Estonia
Website: www.coinovy.com