1St World Entertainment Announces New asu$u the Zulu EP
'Out the Basement Release' Date is July 30th, 2021
1st World Entertainment announced the release of new music by asu$u the Zulu. This long-awaited EP release titled "Out the Basement" is scheduled to drop on July 30, 2021. Throughout the month, asu$u the Zulu has been touting the release date across his various social media platforms with a teaser accompanying a shout out of the date July 30, 2021.
On July 11, 2021, asu$u posted a message which read, "It has been twelve years since asu$u debuted with his ex-afrobeat group, ill-Legal Immigrants, with the release of their first single, 'We Don' Come' and eleven years since the release of his first solo mixtape, 'WTF is This?' on July 21st, 2010."
It has been four years since asu$u released a full body of work with his last mixtape, 'Alien with a Pen 3' on February 15th, 2017. He took a break from music concentrating on his studio engineering skills at 1st World Entertainment where he recorded rising talents One Question, Emmy B and Caedawgg.
Inspired to return to writing and recording after working on a video for 'Feeling Like the Shh', released on April 15th, 2020, asu$u is set to release his powerful new EP reconnecting and expanding his footprint on the music scene. Born in Nigeria and landing in New York in 1996, he developed an appreciation for Hip-Hop, Trap, Club Music along with the availability of multicultural music throughout New York.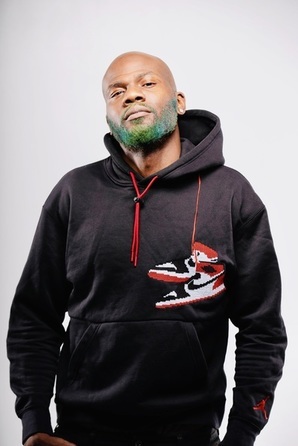 Returning to Nigeria at the age of 13 to attend High School, he began rapping with a natural cadence, accentuated by meaningful lyrics which explored the depths of his perception. Together with an extraordinary stage presence along with an energy and natural wordplay ability asu$u quickly developed a uniqueness which fused together a compilation of musical beats, styles, and influences.
Coming back to the US and settling in the bustling D.C., Maryland, Virginia area, aka DMV, asu$u' career matured as one half of the two afrobeat group called the ill-Legal immigrants with Prince OheneNtow (formerly recognized as Prince Doggydawg). Performing across the University, College and Alt-Radio Circuits throughout the USA the ill-legal immigrants collaborated and performed with a host of international artists. These experiences led to the exploration of a new fusion musical style which embraced a multi-cultural musical genre.
After a performing hiatus, on January 5th, 2021, asu$u the Zulu shot a music video for the first single from his soon to be released 'Out the Basement' called 'Hard Freestyle'. On March 11th, the video for the second single from his 'Out the Basement' EP was recorded.
On March 12th, 2021, 1st World Entertainment released a premiere of the music video for 'Hard Freestyle'. Two days later another video was recorded based on the third single from the EP, 'Own the Night' featuring and produced by Ozodiai as well as showcasing the Tanzanian rap phenom, Roma.
Satisfied with the cohesiveness of the project, asu$u the Zulu in conjunction with 1st World Entertainment decided on and announced a release date of July 30, 2021, for the 'Out of the Basement' EP. The long-anticipated re-emergence of asu$u the Zulu as a performing artist signals a new wave of international, multi-cultural, cross continental music fusion. Consciousness exploring Hip-Hop cadences, coupled with Pop Rhythms, African Beats, as well as R&B Melodies all coalesce in the uniquely personal musical experience delivered by asu$u the Zulu.
Media Contact
Company Name: 1st World Entertainment
Contact Person: asu$u the Zulu
Email: Send Email
Phone: 202-800-4567
Country: United States
Website: https://www.instagram.com/1stworldent