Jonna Thames Newly Launched "The Grandest Gorgonzola" with the Timely Message, 'Take it Cheesy!' now Available on Amazon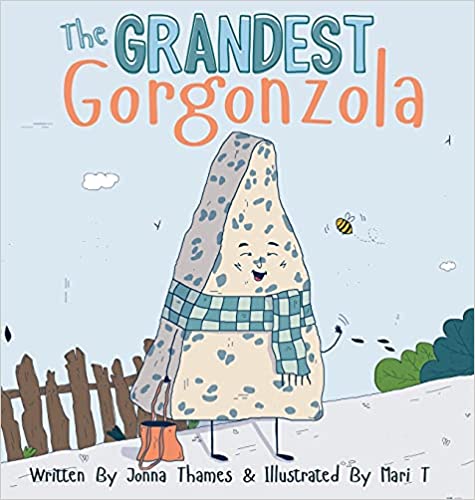 "The Grandest Gorgonzola" is the first children's book by the author Jonna Thames. This book is for all the cheese lovers and foodies around the world. The book is beautifully illustrated by Mari T.
"The Grandest Gorgonzola" is the story of Gilly who was feeling blue about her day and was in low spirits. She heads out for an errand and ends up having a beautiful day filled with cheer that makes her blue disappear. While out on an errand run, young Gilly meets a bunch of friendly faces who make her day with their alliterative compliments. These wonderful people make her smile and cheer her up. Through this journey, young Gilly learns that kind words matter a lot in this journey called life, and no matter what happens she must never forget that she is special. This simple errand becomes something significant and meaningful, and her day becomes cheerful.
Gilly The Gorgonzola is a story that everyone should read. It's a heartfelt story written beautifully by Jonna, teaching the value of kindness and self-worth. The book conveys the core message that no matter how cruel the world becomes, one must never stop being kind. Gilly The Gorgonzola makes one believe in the little miracles that occur in everyday life.
The author Jonna Thames is a tea lover and absolutely loves pasta. Gilly The Gorgonzola is very special for her as this is her first children's book as an author. "I am really excited to share with the world the story of young Gilly who's fun and adorable". She further added, "This book is the result of my love for storytelling and food, especially cheese".
Gilly The Gorgonzola is now available on amazon. This story will be a nice read for children as well as for adults searching for a meaningful story to read to children. Take it cheesy!
For more information, please visit: www.TheGrandestGorgonzola.com or https://linktr.ee/TheGrandestGorgonzola
Media Contact
Company Name: The Grandest Gorgonzola
Contact Person: Jonna Thames
Email: Send Email
Country: United States
Website: http://www.TheGrandestGorgonzola.com