Legendary DJ/Producer Steve Loria Makes His First Appearance in Nearly 2 Years At HOME Nightclub On Friday June 25th Alongside Jesse Saunders, BB Hayes & Crash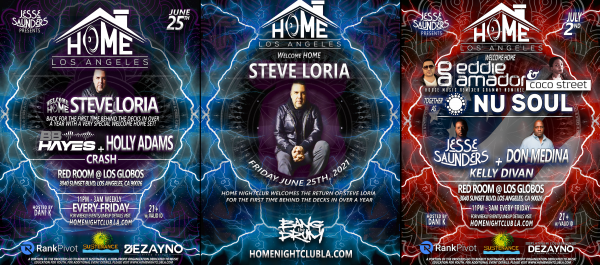 Los Angeles, CA – The dance music scene on the west coast has certainly experienced some drastic changes over the last few decades. While some nightclubs and event venues have evolved, many have closed down for one reason or another. We don't even have to mention the impact 2020 has had on the nightlife industry.
However, this last weekend in Los Angeles, club-goers and house music fans came out in force to celebrate the grand opening of L.A.'s newest house music venue, HOME Nightclub Los Angeles. HOME Nightclub was one of the first nightclubs to open its doors in Southern California after the Coronavirus Pandemic, bringing much needed relief to hundreds of dance-starved party-goers last Friday night.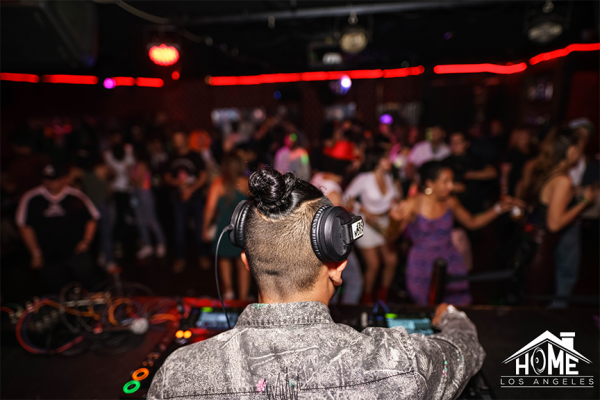 DJ High Def at the grand opening of HOME Nightclub on Friday June 18th, 2021 (image courtesy of HOME Nightclub).
HOME Nightclub co-founders, David King & Jesse Saunders were thrilled with the turnout and outstanding response, stating "It is with the deepest love for house music and the scene that we created this place we call HOME." When asked what the most memorable moment of the night was, David King said "We honestly couldn't have asked for a better reception from the justifiably discerning L.A. crowds. There are a lot of choices on a Friday night. We are just so happy to have had the chance to welcome everyone HOME and can't wait to do it again next Friday night!".
On June 25th, 2021, HOME Nightclub welcomes Steve Loria to the decks for his first performance in nearly two years. For well over the last 25 years, world renowned house music and techno producer/DJ, Steve Loria has been regarded as one of the most influential forces helping to shape the underground electronic music scene.
Steve Loria takes his talent and passion for creating house and techno music to unite the masses across the globe headlining at some of the world's most exclusive and legendary electronic music events including Insomniac's Electric Daisy Carnival, Bang the Drum, Together as One, and Desert Move Las Vegas. Steve Loria continues to play an integral role in the electronic music scene to this very day, taking an inspirational creative twist on sound to continue creating the soul moving, rhythmic beats that keep people dancing all night long. On June 25th Steve will bring this passion and commitment to HOME Nightclub alongside other house legends BB Hayes, Holly Adams and Crash.
Make sure to kick off the 2021 Forth of July Weekend at HOME Nightclub which will feature the soothing sounds of Nu Soul (Grammy Nominated Remixer/DJ/Producer Eddie Amador with vocalist Coco Street) will be performing alongside Chicago native Don Medina, Jesse Saunders, and Kelly Divan for another incredible night of house music. HOME Nightclub Los Angeles runs every Friday Night from 11pm – 3am and is located on Sunset Blvd. at the world famous Los Globos nightclub.
For more information please visit: https://HOMENightclubLA.com
Media Contact
Company Name: HOME Nightclub Los Angeles
Contact Person: Media Relations
Email: Send Email
Country: United States
Website: https://HOMENightclubLA.com/events/