Mighty Minds Africa Announces Business Branding Showcase and Social Enterprise Project to Promote Africans in Diaspora
Social entrepreneur Ifunanya Enezuagu has established a platform to grow the businesses of Africans in Diaspora. She also wants to elevate Africa youths through education and skills acquisition
Hyattsville, MD – Mighty Minds Africa is proud to announce its Social Enterprise with Business Branding project. The establishment's mission is to help elevate African youths by providing them with the education, skills, tools, and information they need to create job opportunities and transform their communities through collaboration.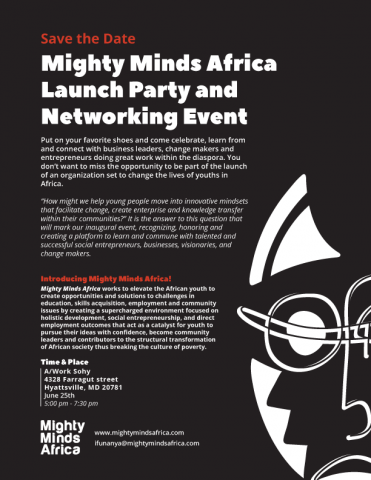 As part of their strategy for growing entrepreneurship, The US-based organization will be hosting a networking event on Friday, June 25, 2021, at AWORK SoHy, 4328 Farragut Street, Hyattsville, MD 20781, United States, from 5:00 PM – 7:30 PM EDT. The event's purpose is to present a platform for Africans in the diaspora to promote their businesses to audiences, investors, even during the pandemic.
The event will feature a TEDx Style Talk, where participants will learn from marketing experts the secrets to using branding to grow their business and attract investors and clients. There will also be a powerful business panel session featuring experienced and successful business moguls who achieved a higher level of success in their various endeavors. Participants will learn from their stories, including how they started, their challenges, and the steps they took to overcome those problems to become successful in their business. Speakers are drawn from various industries, including fintech and cryptocurrency, health and beauty, real estate, marketing, and restaurant.
The event offers participants the opportunity for networking, learning, knowledge sharing, and community engagement. Creative entrepreneurs get exposure for their unique ideas and discover the marketing and branding strategies that work. New friendships will be forged, and bonds will be established that will lead to more exciting things. Mighty Minds Africa will also introduce the Rocket Pitch Networking, where guests will be given 30 seconds to promote their business to an audience interested in partnerships and collaborations.
The organizers have taken special precautions to ensure the safety of participants by holding the event in an outdoor space that is conducive for guests and large enough to ensure social distancing. Make connections with quality people within the community while having a great time.
Ifunanya Enezuagu, Founder & Executive Director of Mighty Minds Africa, is someone whose passion for the growth of entrepreneurship among Africans in the diaspora and youths in Africa can't be hidden. The social entrepreneur and innovation specialist believes that Africans worldwide need to unite to support one another for business growth.
Mighty Minds Africa is also planning to host the "Enugu Youth Empowerment Summit," which will be taking place in Enugu, Nigeria. It will feature skills acquisition workshops to empower African youths and encourage them to start businesses to support their livelihood and solve community problems instead of depending on family members living abroad for charity.
To register for the event, please visit https://www.eventbrite.com/e/mighty-minds-africa-launch-party-business-networking-event-tickets-159272308763.
About Mighty Minds Africa
Mighty Minds Africa is committed to promoting the businesses of Africans in the diaspora worldwide. The US-based business network organizes events where Africans in diaspora connect, share ideas and network for business growth. The organization also provides empowerment, skills acquisition, and training for youths in Africa.
Media Contact
Company Name: Mighty Minds Africa
Contact Person: Ifunanya Enezuagu
Email: Send Email
Phone: (917) 684 8567
Country: United States
Website: https://www.eventbrite.com/e/mighty-minds-africa-launch-party-business-networking-event-tickets-159272308763