Local Parks Best Portuguese native Manuel Machado, best known for his topiary artistry Known as one of the best in Sonoma County
One of the best who kept the parks looking amazing in tip-top shape none other than Manuel Machado native of the Portuguese Island the island of Sao Jorge city Urzleina. Mr Machado always kept our parks in Petaluma looking beautiful. Manuel Machado enjoyed sculpting bushes into the shapes of a pig, a duck, a heart, crosses, crowns he is a man that can do it all.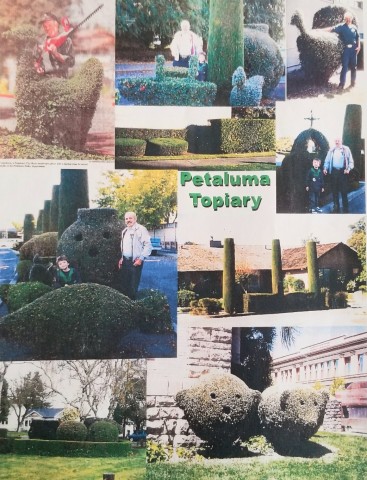 Many have tried to duplicate but do not even come close to accomplishing what Manuel Machado has done to keep our parks in Petaluma beautiful. Machado worked for the city of Petaluma as a parks maintenance worker for 31 years before he retired. Manuel Machado was quoted saying the following "I am a lucky man,? he says.? I have a beautiful wife, two wonderful sons and three terrific grandkids." He was born in the village of Urzelina on the island of Sao Jorge in the Azores. He started working at the age of 7 milking cows, earning 33 cents a day, and didn?t go to school past the fourth grade.
When Manuel Machado was 18, he followed the path of other residents of the Azores, including some of his relatives, and moved to Petaluma. He found work milking cows for three different dairies for nine years. He met his wife, Mary, at a Portuguese celebration in Novato in 1959. In 1968, he submitted an application to the city of Petaluma and got a job with the parks department, where he worked until he retired in May of 1999. The Parks and Facilities Maintenance workers are some of the City's best kept secret some would say.
Machado quickly established himself as a dedicated, hard worker. In 1986, he was honored as the city's employee of the year. Manuel Machado got the idea for trimming shrubs in an artistic style during a trip to Portugal with his wife in 1965. Manuel said he saw a lot of good landscaping there, and got the idea that I could do the same thing here. Some of his more notable topiary work includes the bushes at the Petaluma Museum, which he shaped as pigs, and the shrubs in the median on Lombardi Avenue, which he transformed into a variety of shapes. He also used his clippers on bushes at Wickersham, McNear and Walnut parks, City Hall and the police station. In closing it's without a doubt Manuel Machado is a pioneer and will always be known as the best at what he does and did. The community of Petaluma & Sonoma County are very grateful for all he his done to contribute to making the local parks beautiful.
Media Contact
Company Name: Sonoma County Media Company Co
Contact Person: Paul Medeiros
Email: Send Email
Phone: 510 359 7523
Country: United States
Website: http://www.sonomacountymediacompanyco.com/